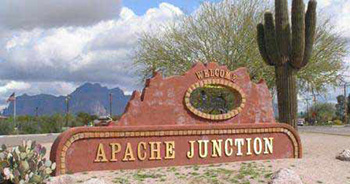 Discover the wonders of living in
Apache Junction, AZ
, and immerse yourself in a world of exciting local and nearby attractions that make this community a true gem. Situated at the foothills of the Superstition Mountains, Apache Junction boasts a breathtaking natural beauty that is a wonder to behold. The majestic mountain range provides a stunning backdrop for hiking, rock climbing, and other outdoor activities.Apart from the scenic beauty, Apache Junction is rich in history and culture. The community is home to several historical sites, including the Superstition Mountain Museum and the Goldfield Ghost Town, where visitors can experience the Wild West era firsthand. The Lost Dutchman State Park is another popular attraction, featuring scenic trails that wind through the Sonoran Desert landscape.In addition to its natural and historical wonders, Apache Junction also offers a wide range of events and activities for people of all ages. From arts and crafts festivals to live music concerts and rodeos, there is always something happening in this bustling community. The Apache Junction Farmers Market, which takes place every Saturday, is a popular destination for fresh produce and handmade crafts.Whether you are a nature lover, a history buff, or simply looking for a place to call home, Apache Junction, AZ has something for everyone. With its unique and fulfilling lifestyle, this community is a true gem that is sure to captivate your heart.
Convenient Location and Accessibility
Oasis Junction Mobile Home & RV Park is nestled in the heart of Apache Junction, Arizona, the easternmost community in the Phoenix metropolitan area. We are ideally situated off the Apache Trail (Main Street), conveniently located near major highways and public transportation options making exploring Apache Junction attractions, venturing into downtown Phoenix, or enjoying the breathtaking outdoors a breeze.
The Superstition Freeway, U.S. Route 60, runs 2 miles south of the park. From there, it is less than a half-hour drive to downtown Phoenix. No car? No problem. Valley Metro Transportation has convenient stops along the Apache Trail and is a short walk from the park. Don't want to walk? Prestige Taxi and Car Service can pick you right up from your doorstep. Budget-minded? Uber is also available in the area.